Over the last 19 years I have received thousands of emails from customers offering their review and feedback about my custom leather gun holsters and leather belts for concealed carry and law-enforcement. I have posted a few below. My wait times are not short but the quality last a lifetime! I look forward to building your fine custom leather gun holsters and belts.



A few recent reviews over the last couple of months...
---------------------------------------------------------------------
Hi Troy, I just wanted to take a moment to let you know that I received my order, and to say that I am impressed would be an understatement. The craftsmanship and attention to detail is second to none, and I wanted to thank you for the excellence of the product you have provided to me. It was certainly well worth the wait, and I will be showing it off at the range. Quality like this is a rarity in this day of mass production and outsourcing to offshore manufacturing, so to see someone who still has that care and and attitude to only produce the very best, is gratifying. I am completely amazed at the precise fit and finish with my Sig, you could not have a happier customer.


Warm Regards, Thomas


Troy- I received the ordered holster and belt yesterday, and I must say, the craftsmanship is flawless. My Glock 23 fits in perfect. I am very impressed with both of the products. Thank you for your expertise and patience in dealing with me and all of my continued requests to receive the products.

Gregory


Hi Troy,
Letting you know that I'm beyond satisfied withmy holsters, cuff/mag and cuff cases. The rich colors, scent and feel of these works of art/craftsmanship have me walking around the house holding and admiring themas a babywould holdhisfavorite blanket! My co-workers (Correction Officers) are amazed at how thick and strong the leather is. Absolutely worth the wait.I know I'll be wearing these for decades.

Thankfully Yours,


Guy

Troy,
I received my new holster on Sat afternoon. What amazing craftsmanship. You are definitely a gifted leather worker. The details go way beyond everyone else's. I especially like how you clean up and smooth out the inside of the holster. My old holster still has all the rough leather on the inside. I am constantly having to clean my gun because the little leather "fuzzies" keep coming of all over my gun. As far as comfort, well I put the holster on the next day and wore it while driving in my truck for over 3 hours while traveling across the Texas Hill Country. It immediately felt like I had been wearing my holster for months. There was absolutely no break in period. From the very first moment it felt like not only did you custom make it to fit my gun, but also to fit me perfectly. I absolutely love this thing and you can be sure I will be ordering more!
With Great Gratitude,


Tim

Hi Troy:

Well......it finally arrived!
I have to tell you, I have a few Galco holsters and I ordered this holster from you basically just to see if there really was *that* much difference. I am truly surprised how much difference there actually is!
The first thing I noticed was that it really does look hand crafted rather then a more "mass produced" look. I'm not sure why that is. I mean the stitching and such is excellent and there are no flaws on the leather but some how it just visually looks different. In a good way.
Second, when I put the pistol in the fit was amazing! It fit as if it had been in and out of that holster for years. It slid right in all the way to the bottom without a squeak or any significant force and it was held in firm with no hint of wiggle or looseness and it came out readily with a firm but easy pull.
Once the holster was on it was surprisingly comfortable! I can sit and barely notice it. Standing still it's all but unnoticeable and walking there is a slight amount of weight obvious in that area but then again....it's a .45! It's all but impossible to spot with a shirt over it.
Not sure how you do it Troy. It always seemed to me like there couldn't be that much difference, seemed like a holster could be mass produced. I was wrong, and it was totally worth the wait. I'll probably be ordering more in the future. I understand now why you are so busy. The price is a bargain for such a quality piece and I'm sure you have plenty of repeat customers.
Well worth the wait.
Thank you.

Rob

Hi Troy,

The holster for my Walther PPK/S arrived as scheduled on Tuesday 2/18/2014 even though a major snow storm was bearing down on Fremont, NH.

I do want to say that when I opened up the carton and saw that holster it exceeded all my expectations of what I thought it was going to look like.

Troy, to me, this holster is truly a very impressive working piece of art and I'm so thrilled to own it. The meticulous attention to detail from the uniform dye color and the overall contoured waist shape to the evenly spaced stitching that follows the curves of the burnished edging is outstanding.

I can certainly see the workmanship that went into building this holster which definitely shows how much loyalty, devotion and pride you put into making such a quality product..

Thank You for a terrific job!

Respectfully,

Paul

PS: I'm enclosing a few hi resolution photos for you to see how cool this pistol and holster marriage looks together....

Even James Bond would appreciate this set-up.

Troy,
I picked up my belt and holster from the post office yesterday morning. I appreciate your voicemail to give me the heads up. I had been watching the tracking on it but wasn't anticipating the need for the signature and the postal worker not leaving it in our lockable mailbox. It all worked out in the end, I just had to wait one more day before I could actually get my hands on it. Ironically, when I did pick it up at the post-office they didn't even require me to sign for it even though it said signature insured right on the box. I did get it though and it was packaged nicely and in great shape. The combo looks great and I am very happy that I decided to order the belt too. I assume that it will break in and stretch a little with use otherwise I won't be able to get any bigger as I get older or the belt won't fit me anymore. I had to use the last hole in the belt to put it on but I can tell it is very stiff and hoping that it will allow a little more room as it breaks in. They are very comfortable to wear and the fit and the retention on my Kimber are perfect. The whole setup looks great and was worth the wait.
Thanks again for your fine work. I appreciate you working with me in getting one of your holsters. I am sure that I will enjoy it for many years to come.
Lance
Troy,
My holster arrived at the house while I was in Singapore. My wife told me it was there and I couldn't wait to get back to the US to try it out.

I put it on as soon as I got back to my house (a 36 hour plane ride with layovers). I love this holster! You did a great job, it was worth the wait. Nobody else does what you do. I've purchased several IWB and regular holsters, yours is the most comfortable and it doesn't push my pants down making me look like some kind of thug.

Thank you so much, I love it!!!!
Chris
Man, what can I say brother the quality of the work is awesome the fit and finish of them is awesome, id wait for em again and plan on it soon, they are comfy and fit flush to the body, the nicest holsters I've ever owned.
John
Troy,
Just received the package today and I must say I'm impressed as hell. Gun fits perfect as well as the magazine.
Just wanted to drop you a line to say thank you for your efforts.
Best regards,
William
Troy,
I received my Kahr holsters yesterday and couldn't be more satisfied. Fantastic work and great prices. I'll try these for a while to see which style works best for me. Then I will be back for more holsters for my Kimber's.
Many thanks and best wishes,
Roy
Received holster on Friday.
Once again, you did outstanding work, the fit is great.
Thanks again, Gary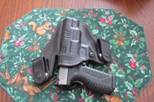 IMG_0367
Hello Troy,
I picked up my new holster at the post office today. It is a good fit and a really quality job.
Thank you
Dave
Troy, THANK YOU!!! I received everything today. The work is beautiful. Please feel free to use my endorsement of your work. True American Craftsmanship from you, so rare these days.

-Alex
Troy, thanks for the holster it is great...
Hi Troy
I received my new holster that you made for me and it is great. I use it for both undercover and plainclothes work. The holster rides perfectly on my belt and doesn't interfere with my raid vest (pictured). I am thoroughly impressed with the fit and finish and will be ordering another one in black very soon. Multiple co-workers have commented on your work and have asked for your contact info, website, and or catalog.
Thanks for a quality holster

-Reggie
Troy,
The holsters are here and are the most beautiful ones I have ever seen. Thank you so very much for the great craftsmanship and artistry.
All the best, and the happiest of New Years.
Rick
Troy,
The holster arrived. Your work is impressive and this is the finest holster I'll probably ever own.
Best wishes for the New Year,

Gary
Troy,
I just wanted to send you a courtesy note to let you know that I received my holster. Thank you very much. I have to say the holster is beautiful. It has gone beyond all expectations. I will refer you and your company to everyone who is looking for a custom made holster.
Again, thank you so much and I hope you have a wonderful New Year.
Rob
Troy,
My holster arrive this morning and I have to say it is just incredible. I couldn't ask for a better fit and the craftsmanship goes way beyond what I could imagine. Even though it took many months from the time I ordered it I couldn't be happier with this holster and it was well worth the wait. Once I figure out which handgun is next for a custom holster I'll be placing another order.
Thanks again,
Blair
Troy. I already have two holsters from you that you crafted for me for other handguns that I own. Without a doubt, they are the most comfortable, best fitting, and rugged holsters that I own (i.e. my absolute favorites). So, as you can tell, I'm willing to wait as long as necessary for you to craft the holster. Take care and I'll check back with you later.
Steve
Hi Troy,
I received the holster today. I'm no stranger to high-quality leather work. Amazing job you've done here. Thank you.
David
Hello,

I received this order in the mail two days ago. I wanted to let you know that I am very pleased with this product. Just like my first order from you, this one shows great quality and is exactly what I was looking for. Your website will definitely bemy firstchoice in the event that I need to buy leather for any other firearms in the future.

Thanks again for everything.

Charlie
Troy, I just received my holster and I could not be happier. It was a long wait but I feel was well worth it. Beautiful workmanship. Thank you, Jim
Troy,
I have had my holster now for some time. I want you to know that I love it. It is beautiful, and it is very comfortable.
Thank You.
Dale
Troy:
Thanks for doing a superb job in the design and fabrication of the holster. Excellent craftsmanship all the way.
Best regards,
Roger
Hi Troy,
Wow, I am more than pleased! The quality, workmanship, design and rich color couldn't be exceeded by anyone. The superb craftsmanship went well beyond my expectations. We definitely will be doing business again in the near future. Am considering one of your Western rigs for my Single Action Colt. Well worth the wait.

Thank you again, Paul
Hi Troy,
WOW, is it beautiful. My only question is regarding the belt. I am between the largest and the second to largest hole, with my adding the Magazine pouch later on, is that causing a problem? Is there a pretty good 'stretch factor'?
Man oh man is it gorgeous. You do beautiful work partner!!!!
Best Regards,

Jason
I just got my mag pouch today and felt like I have to tell you how much I like it. Fit and finish is a top notch it is very comfortable to wear and easy to operate. Caring a spare ammo just got a little easier.
Great work Troy
P.S wish the turnaround time would be better but It is worth it. Thinking on ordering the holster in the future.
Good luck
Oleg
Troy,
Thank you do much for my custom holster. It is more than I imagined and works beautifully with my 1911. You were right about the color and skin, thank you for your input on it. The craftsmanship is amazing. I have never seen anything like it. It was certainly worth the wait. It is also much more comfortable that my current rig even though it's brand new.
Thank you,
Rick
Hi Troy,
I received the holster in fine shape and it looks great! Ready for a lifetime of service no doubt. Thanks a lot!
Rodney
Nice Troy. The holsters are the best of the best.
Many Thanks.
Alton
Troy,
I received my holster, what an outstanding piece of work!! Well worth the wait!! Unfortunately my xds was recalled so
I can't use the holster yet.....I'll let you know how it works when I get my gun back.

Thanks,

Ken
Troy,
I picked up the holster last night, and I must say...........it is awesome!!
Keep up the good work!
Dave
Thanks Troy!

So far, everything seems good on the rig. I wish I had ordered a belt at the same time!

Thanks again,
Brian
Hi Troy,
Received the Holsters today. They look absolutely outstanding. I can't wait to start wearing them. Thanks again. I see you do custom 1911 work, this is good to know as I am thinking of purchasing one.
Thanks again,

Wayne
Troy, I received my new holster yesterday, and it is everything that I thought it would be. What a great job you did, it has the comfort and concealment that you said it would have, and I want to say thank you .
Regards,
Chuck
Hello Troy,
Well to my surprise I came home to a package sitting on my front porch and I couldn't wait to open it. Both the holster and pouch are beautiful. I quickly opened my safe and grabbed my Kimber and mag. A superb fit. I love it. Thank you so much it was worth the wait.
Best Regards, Mark
Troy got the holster gun fits perfect thanks Mark
Troy:
It arrived today, and my friend, thank you very much you can be proud of the fantastic work you do!
It is a pleasure to wear that holster and will be worn with pride.
Thanks,
Dan
It's here and it's perfect! Thanks, Terry
Troy,
Thank you for your email. I appreciate it. That being said, please let me say that the belt I received from you is top notch; outstanding work! I look forward to getting my holster. I feel confident that I will love it. Some day, I'd love to have you build me a 1911.
:-) Thanks again.
Respectfully,
Troy,
Your workmanship is superb. The fit of the holster with my Kimber is like a glove. It couldn't be better. The retention is perfect. Bravo my friend!
Take care,
Bob
Good Afternoon Troy:
Received the holster and I am pleased with your work. "Nice Fit". Looking forward to receiving the belt. Please be informed it was worth the wait.
Rick
Beautiful work Troy. Thanks
Jon
Troy,

I received the holster this weekend...a real piece of art. Top notch work andwell worth the wait.

Thank you,

Ben
Troy:
I picked up my new holster from the post office today and needless to say I am excited. As usual the workmanship is the best I have ever seen outside of the Harp shop.
I now have two Troy Harp Holsters for my Kimber 4"; a paddle and a fixed belt type.
Troy, thanks again.
Best Regards, Jim
Wow Troy I'm very glad I waited for the holster you made for myColt Defender. Iwore it for the entire day today and almost walked into work with it still on my hip (which is bad- no firearms allowed at work) First rate craftsmanship Troy. Thank you again for your skill and dedication to your craft!

Mike
I received my order last night and I just wanted to let you know how happy I am with my new leather, the fit is perfect and the finish is beautiful these were worth waiting and I will certainly be showing them off to everybody. Thanks again for the wonderful work.

craig
Troy

i received the holster today. Your work is spectacular. Thanks again.

Will
Troy, my holster & mag pouch arrived today. I'm very pleased. Quality work & fit & finish is excellent. I'll be carrying my Kimber on a regular basis. Keep up the great work and always support the 2nd Amendment.
David
Hey Troy,
I knew I would be happy with my holster but you have exceeded my expectations. Great job, thank you sir. By the way, the picture on the back of your business card of the western rig is one of the best I have ever seen. Let me know when you get to take a breath so we can talk about getting one like that built for me.
Again thank you for a great product that I will be proud to wear.
Barney
Hi Troy, I received the pistol and mag holsters today. I am extremely happy with them. Thank you very much, bob
Dear Sir;
You made me two concealed carry holsters with lasers and I can not tell you how much I am pleased with your work . I have not yet had anyactivation ermitent or other wiseby putting my gun in the holster or pulling it out since I got your holsters . I wish to thank you for doing such a good job making my holsters. I have not replaced the batteries since I got the holsters from you and thats tireffic .
I would like to get one more done but I know you are so busy I don't dare ask such a favor.
Thank you so very much .

Joseph
Received.....they are perfect. Very nice. Ralph
Troy
I received my holsters today, absolutely love them. I do some leatherworking as a hobby so I can appreciate the absolutely amazing craftsmanship. The mags fit perfect and gun fits perfect... I have worn them all day and they are also very comfortable. I couldn't be happier. After seeing understanding you also make custom 1911's, which I am in the market for, I will need to talk to you about that soon.

Sincerely
Jeramy
Just to let you know. I received the holster today. All I can say is, AWSOME!!!!! Thank you very much!! Will be placing another order for several more holsters.
Jorge
Just a quick note to thank you for the holster. It's exactly what I wanted, and the fit and workmanship far exceeds any other I've ever seen.
Well worth the wait.
Don
Troy , the holster and belt are awesome , the level of craftsmanship is outstanding , the fit and function is perfect , I'm impressed......thank you ......Michael
Hi Troy
Mark here , I just popped into my po box and got your parcel 4 holsters and amo carrying pouch. Troy you do amazing work My wife and I are just speechless , absolutely beautiful. Thank you for spending so much of your time creating these pieces for us Troy
We truly appreciate your work
Regards
Mark
Hi my name is Charlie. I just received my M-11 gun holster and I love it. It is unbelievable craftsmanship. Thank you so much for the quality you do, well worth the wait. Thanks Charlie.
I just wanted to take the time to thank you for such a fine job you have done with my holster! It shows the quality of your work and materials used to fabricate such a beautiful holster. I hope I can continue doing business with you in the near future.
I will definitely recommend to my friends or others, since usually I browse the web trying to find the best holster out there and this is without a doubt the best there is!
Thank you very much.
I received my new holster today and everything is as you said, what a fine piece of work. when i put it on my belt it fit like it was made for me then when i slid my kimber into the holsterit was a true marriage. thank you for everything the only thing i need is to practice drawing and reholstering and i will do that. thanks again
Michael
Troy,

Just received my M-11HC(P30), and I couldn't be more pleased. Perfect fit, the holster on me and particularly the gun in the holster, without any adjustment necessary. It was not really like it was new, rather, it was like I had worn it perfectly a long, long time, misplaced it, and had just found it again.

A true work of art; the pictures don't do it justice.

Thanks again,

Rick
Troy,
I was thrilled to receive my new holster and mag pouch. As always they are a perfect fit and testament to your skills and craftsmanship. The day I received it a customer was picking up a new 1911 and just called to tell me he had ordered his own exactly like mine. Thank you my friend for a beautiful product that I wear with pride.
God Bless,
Troy, The previous 2 holsters I ordered for my Glocks are incredible. They are the most comfortable, inside the waist holsters I have. I don't even look for another. I can, and haveworn it all day without any issues. I hardly even know that I have it on most of the time.
Thanks again for an awesome, quality product!
Hi troy. Roger in st.Petersburg. received the mag pouch today. I must say the holster and pouch are every bit the quality i expected. Awesome job. Well worth the wait. Thanks again.
Troy buddy! Thank God I waited for your M-11 concealment holster. I can finally carry my 5" 1911. That crossbreed holster can go in the trash where it belongs. It doesn't even come close to the comfort compared to your holster. I don't usually have patience but I would wait all over again for this kind of fit and quality. Thanks Troy. I will reorder soon for a new gun I am getting.
Thank you Troy. Your workmanship is unbelievable and I appreciate your keeping in touch along the way.
Bill
Thank you, Troy. I appreciate the care and attention you pay to the craft, I am completely satisfied.
Kind regards,

Chris
Hello Troy,
Just received your leather. The quaility of your work, your standard M-11 holster is so much better than a lot of "custom" holsters being sold by assorted leather makers. I look forward to wearing it for many years to come. Thanks for the email, it was a nice touch. I prefer one to one contact in business as opposedto the one to who knows, faceless ,nameless, could care less, big business types.
Thanks again,
Respectfully,

Harry
Troy,
I'm getting ready to post a review on 1911forum.com. The fit and finish on my holsters is superb. Nice and snug, without being ridiculously tight. The thumb break is in just the right place, and overall I couldn't be more pleased. I'll be ordering a belt as soon as I can take a measurement.
Thanks again Troy,
Hey Troy- I very much appreciate the upgrade to my holster! The pics you posted on the 1911 forum look amazing. The holster is so much more impressive in person! Thanks again!
Troy,
This is one hell of a beautiful holster and I cannot thank you enough. A fine piece of work. I will trumpet your work to every gun owner I know. And, I will send in another order soon.
Thanks again, Troy, and be well,

Stephanie
Troy, I am overwhelmed by the effort you put into this western rig and that you were able to complete it-even though you did not have any input on the size of the chess pieces. This was a very special project for me that I did on behalf on my youngest son-cannot thank you enough- I sometimes get impatient but some things should not be rushed. The product is beyond my expectations-I have sent the picture of the rig to several co workers who are also into this sport and they were blown away.
Thanks very much

Arthur
Troy - Just wanted to thank you and let you know that I had received my order as promised yesterday. As I anticipated the quality of work is second to none and never in doubt. Truly a rare thing now days for a consumer to see such craftsmanship. I work in construction and will be the first to admit that "the trades" (skilled carpenters, wood workers, and etc) are unfortunately a dying breed. Thank you again Troy for your time, efforts and attention to detail. I look forward to using these holsters for many years to come and know they will probably outlast me if cared for properly.
Let me know when you're ready to ship the pocket holster and I'll make sure I'm in town at the office to receive.
Thank you again -
Best Regards,
- Rob
Troy,
There was no way I would not accept the holster even with the long wait. Itwas built by a talented craftsman and I am grateful to have it. I will contact you again to make another holster for me.

Best Regards
John
Very nice holster well worth the wait it fits my gun awesome.

thanks Glenn
Troy, I will continue to tell my fellow gun enthusiasts and friends about Brigade Gun Leather and the superior customer service you provide.
Thanks,
TheHolster works just as well when used as appendix carry, I've finally got my draw down to 1.5 seconds from concealed to the first shot from the appendix and 2.6 from the rear hip position. I am going to use it for all my new students that want to show the difference between a Holster made for their specific Firearm as compared to the Generic made that doesn't always fit and collapse after their draw. Plus CrossBreed doesn't cover all the metal on the Firearm which causes the Firearm to rub against the shooters skin. I have also let others know thatit takes time to make a real Holster, and it is woeth it.
Sincerely,

Edward
Thanks Troy and again I am enjoying the holster , use it daily. Jason
Troy,
My holster arrived yesterday and I couldn't be more pleased. It fits and performs perfectly, and the time, care, and skill that you put into making it was obvious as soon as I took it out of the box.
Thank you so much for what I know is a work of art that will outlast my lifetime.
Randy
Troy
I have received the belt and holster. I am satisfied fully. What kind of oil should I use on it?
Thanks
Troy, I've been getting great compliments from the few people I have shown the Holster to, and that's a good sign because I have only been at the range once since I received it. It draws beautifully . I found that I can either carry it as you recommend as well as abdominal carry. The Draw is almost as fast as my old comp holsters. After an hour of dry practice I am able to draw and fire within 1.3 seconds. I am changing the rear sight toe a Bomar replacement with the angle cut to prevent dragging on my clothes and putting in the trijicon HD front sight to get rid of the sharp edge plus fast sight pick up.. Those that have seen it are amazed that someone could build a holster that looks as good as it does and fits the gun like a glove and still draw as good as it does. Now that i am getting back on my feet I will have it at the range1 day per week for practise and 1 day with the Sheriff's Office so it will get alot more exposier.
Sincerely,

Edward
Hi Troy, I received the holster today. It is a work of art. Thanks for helping with this. When I get the chance I will refer to your site.
Thanks again,
Hi Troy,
Just a quick note to let you know that I received my son's holster/belt/mag holder on Christmas Eve.
It is absolutely superb in every detail! He loves it!
Thank you very much for getting this done. I can imagine you likely had your hands full getting orders out for Christmas.
On a funny note, we actually missed the Post Office delivery on the morning of Christmas Eve. They left a note on our door saying the local Post Office was closed and that we could pick up our package the day after Christmas. I drove around and found several Post Office trucks, but could not locate the one with the package. Turns out the Post Office sent a separate truck out for the Express Delivery packages. Went to the local Post Office and knocked on the door for about 20 minutes. A nice lady finally opened the door and was able to give me the package, so it was ready Christmas morning.
I may have mentioned that I have done a lot of research and ordered several different brands of leather holsters. Yours is clearly the best.
I look forward to receiving my Vertical Shoulder Holster once things in your shop slow down a bit and you get caught up. I also have my eye on another rig on your site so I may be calling in another order soon.
Merry Christmas to you and your family and thanks again for getting this done for me.

- Roger
Dear Troy,
Turned out well is an understatement!!!
I just arrived home from a week on the road and was delighted to see my holster on my desk. The SIG fits perfectly and I could not be more pleased. I'm sure the Colonel will be very happy on Christmas morning.. You out did yourself. They have the touch of an Artist.Thanks so much for your efforts and your skill. I will teasure this pice of art. Merry Christmas.

David
Troy
Thank you. Your work is truly outstanding. Chad's holster is beautiful.
Thanks again
Troy just wanted to let you know I absolutely love my holster. It is by far the best holster I have ever owned. in the past few days, I have had to draw from passenger seat of UC car in a takedown. I have been in a foot chase over a fence Nd had to draw. Smooth draw and re holster. Doesn't ride high at all. Love it. My best friend ( the one your making now). Can't wait to get his. Just wanted to send you praise
Brant


Troy holster is awesome. Thank you thank you.

Sent from my iPhone
Hello Troy,
Earlier this afternoon I received the holster for my Glock 30. Words cannot really describe how surprised I was when I opened the package, it is absolutely gorgeous; perfect.Truly a work of art.
Thank you for your consideration of my order. I wish you and yours the very best for the holidays.
Troy,
I received the belt and holster yesterday. Both fit great. The holster with gun inside is more comfortable than I expected – I can sit comfortably with it, and it doesn't show at all, even with jeans. Great job, and thanks very much.
Have a great Thanksgiving.
Picked up my holster today Troy. Its a perfect fit!I know it was a pain in the ass, but you did a great job. Cant wait to show it off to all my gun buddies. Just wanted to say thanks for your work! Take care.
Troy,

I just wanted to say thank you. I received my order a few weeks ago and WOW! I have to say that by far this is the most comfortable wearing holster I have ever owned. Bothe the holster and double mag pouch conceal outstandingly. I've been wearing it daily for work and it performs perfectly. The craftsmanship is top notch. Thanks again for producing such a great functioning product. I will definitely be coming back for future business.

Shenanigans!
Hey this is pretty cool seeing my rig on the site, thanks Troy, you do excellent work. It took about 7 months to get my holster, mag pouch and belt but was well worth it. I was like a kid waiting on santa clause watching for the postman. To all the guys who have placed orders, be patient, it is well worth the time. If you want a holster NOW then you have to go to a hunting goods store or order online. If you want a piece of leather crafted art that will be able to be passed down from one generation to the next with your cherished pistol then call or email troy. Good guy who does good work. Mine is the all black M11 with ostrich trim. If you CAN wait that long to get the custom leather then troy is the guy to see. I know some guys get upset because it takes so long, but anything worth haviing is worth waiting for. Thanks again troy I'll be ordering another one as soon as you start taking orders again.
Troy,
The workmanship and quality of the holster is superb. I could not be more pleased. Thank you again for the beautiful and high quality work.
Best regards,

Bruce
Hi Troy,
I want to let you know that the package arrived today, and I'm very pleased with the holster and your work.
You are a true artist in leather works!!!
Thank you for making my holster.
Best regards from Belgium,
Luc

Troy, I just wanted to say thanks for a great rig.It took a little time but the wait was worth it.The fit for my Sig and magazines is perfect and it looks incredible. It is very comfortable, evendriving whileholstered (my seats have lateral side supports). The finish work is awesome, the detail is impecible andfrom the edge you can't tell that it is two piecesof leather stitched together. I have heard that a carry holster needs to be comforting, not necessarily comfortable. This is definately comfortable as well as comforting. Drawing from concealed is smooth and accurate and re-holstering is a breeze. I look forward to many years of service from it.

Brian

The last few weeks have been nuts, got stuck in Boston for a week and a half on business, then moved.. Didn't have internet. I did receive the holster, and i gotta say man. It's gorgeous. MUCH nicer than I was expecting. I will certainly recommend you to any and everyone I can!
Mike

Troy -

The Holster and Belt arrived today and everything seems okay.. Beautiful work! I'll let you know how it goes over the next couple of days.

Andy
Absolutely outstanding work, quality and craftsmanship. I'm absolutely thrilled with this setup and I have never been more comfortable wearing a 1911. Thank you for the free belt. You have earned my business indefinitely.

Jason
Just a quick message to say what a great job you suits on my holsters.I west them all day almost everyday and its the most comfortable holster I've ever worm. Again thanks for the great work my next order will be one of your custom .45s.
Thank you

Joe
Troy,
I wanted to take this time to send an update on my holster you made for me. I now have had it for a month or so and use it everday. There are times I feel to make sure it is still there because it is so comfortable. People see it and ask how much and I tell them and they are isn't that high. I tell them you would think so until you buy one for yourself. I tell them you literally get what you pay for. You want a custom holster that is the best your going to find and the most comfortable you will ever wear then it is going to cost a little more. I told them i will never settle for any other holster again after deciding to buy this one for my glock. Thanks again for such a wonderful job you did and I carry your business cards with me everywhere i go.

Dwayne
Troy, the holster arrived!!! Thank you for the great attention to detail and fit of the holster to my SW 1911. The craftsmanship is outstanding with the black shark trim. Thank you so much.

Keith
Troy,
I finally received my M-11 just before Christmas.......but you're right,...well worth the wait !!!!!
You have a very fine product that fits like a glove even with a large frame auto. I have enjoyed the comfort and fit of the iwb holster. It holds the butt of my weapon close against my side without being uncomfortable even in the sitting position thanks to the full leather back.
And having compared your price/quality against other providers, I would say you rank above most.
I'll be looking to purchase another holster in the future and will certainly be looking at what you have to offer.
Thanks for a fine product.
-
Blake

----------------------------------------------------------------------
To keep this page from getting too long I will only post the most recent Brigade GunLeather Reviews and Brigade GunLeather Feedback.